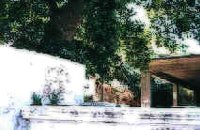 Platanos (GR: Πλάτανος = plane-tree) is located 10 km from Kasteli Kissamos. It is a large village, the second largest in Kissamos area, after Kasteli. It has approximately 1000 inhabidants, which are occupied mainly in green house and olive cultivation and tourism.
There is a doctor's office, gas stations, many shops, rooms for rent and taverns.
At the village's old square stand a plane-tree with a fountain.